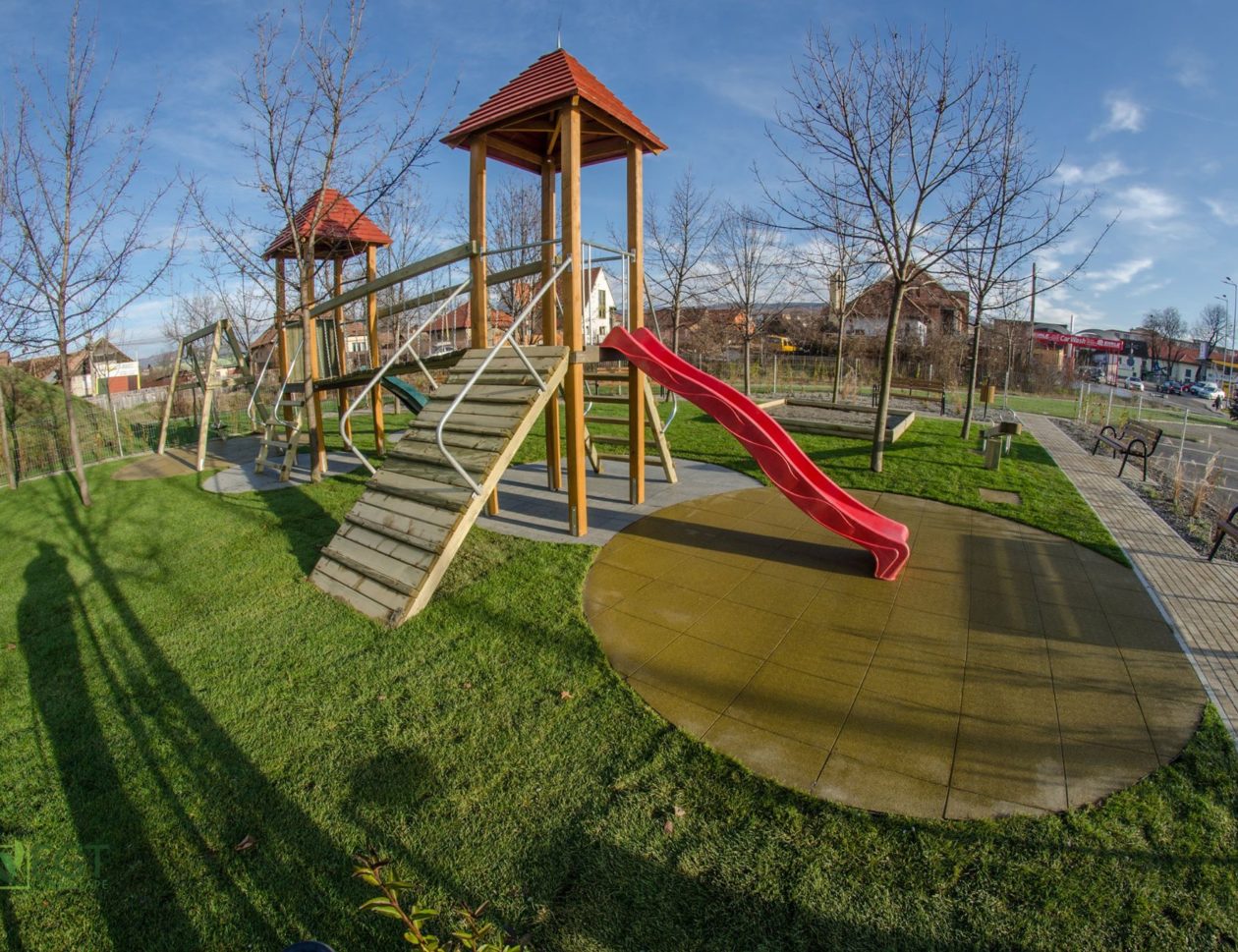 Address: Odorheiu Secuiesc
Surface: 307 mp
Date: 2017
Beneficiary: Kaufland România
Designed by: EGT LANDSCAPE
Executed by: EGT LANDSCAPE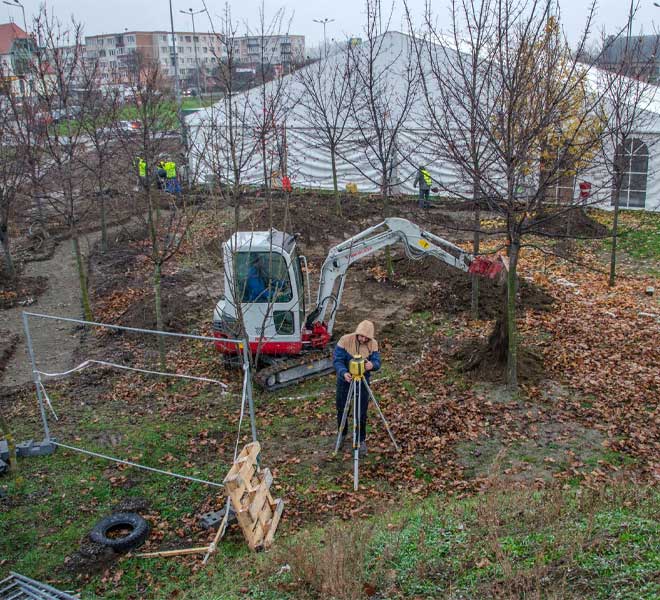 It was requested to arrange an unused green area right next to the Kaufland supermarket and to turn it into a playground.
Although the area belongs to the supermarket, it can be used by anybody, just like any playground in the city center.
The place had not have any particular function before, only a few trees were planted to have a better look. The area is surrounded by the building of the supermarket, parking and a pedestrian way.
Our goal was to build a unique playground according to high quality standards, taking into account the possibilities of the location. We were excited about this challenge: the design and layout of pavement, playground elements and public furniture faced difficulties because there were relatively many trees compared to the small size of the location, and their removal was not justified. We did our best to assure easy access, coherency and transparency at the same time, the required buffer zone of each playground element, and to provide fun to the little ones.
The use of shock absorbing surfaces was a basic criterion (sand, gravel, bark, rubber) and in terms of plants, we used rich and colorful varieties that are both durable and don't need much maintenance.
The place without any function has turned into a friendly and intimate playground, shaded by trees, where children and their supervisors can relax before and during shopping.
"Great engineers and architests, an excellent team, great job and results! Thank you"
"Spirited, hard-working, coherent, kind and serious people who implement project at the highest level of competence. Congratulations!"
The way EGT Landscape had worked, showed us clearly that they like what they are doing. They not only design gardens, but do professionalism landscaping works as well. They are not even afraid to get dirty on their hands. When we started to arrange the garden of the business center, we only hoped that the final result would be great. But we have not thought that some bushes and weed can be turned into such a wonderful thing like this. We liked this project a lot, and since then we like EGT too!"









—

Szakács-Paál István, Harghita Business Center
"Waiting for a miracle ... Once we met the young and dynamic team of EGT Landscape, the miracle entered our gate. Just as it sounds. They transformed our hilly, muddy backyard full of clay into a fairytale garden. Their professionalism was obvious at the very first meeting. After giving them a few information and pictures, flower preferences they made a plan that included everything, even what we would not have been able to express. During the arrangement works, they completed the tasks in teamwork, and their attention and effort have brought us a dream garden that neither children nor adults would really want to leave. Their professionalism was obvious not only during the works but also during maintenance works. It is a team of experts with outstanding results. Thank you! "